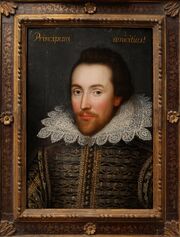 There were only two work of art of Shakespeare, the famous poet and play writer. The first one was a white-black gravure that made by Martin Droeshout and it is published in the cover of Shakespeare's collective works. Second of them is the bust in Aya Triada Church whose expense is covered by Shakespeare's own family. Both of them are made after Shakespeare's death.
However , according to an article on Time, an oil painting was discovered in the collection of an old Irish family. The painting that has rested for centuries in the collection of Cobbe family was painted in 1610, when Shakespeare was 46. If it is proved that the painting is original portrait of Shakespeare, many new details can be learned about him. For instance, in the portrait, Shakespeare is wearing a gold earring.
For a bigger size of the painting, visit:

http://2.bp.blogspot.com/_hjImcFtxvZ0/SbqK6c_Y3oI/AAAAAAAAACQ/nq7E2QvCg2o/s1600-h/shakesp1.jpg
Ad blocker interference detected!
Wikia is a free-to-use site that makes money from advertising. We have a modified experience for viewers using ad blockers

Wikia is not accessible if you've made further modifications. Remove the custom ad blocker rule(s) and the page will load as expected.