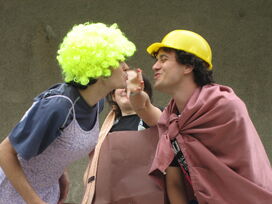 Over the past several years, there have numerous performances of Shakespeare's plays at TEVITOL.
Major Performances
Edit
Spring 2006: Twelfth Night (starring Dogan Dalay)
Spring 2008: The Complete Works of William Shakespeare, Abridged (abridged)
Spring 2010: Romeo & Juliet (in parts)
Fun Facts about Past Performances
Edit
Explosions always make them better.
Ad blocker interference detected!
Wikia is a free-to-use site that makes money from advertising. We have a modified experience for viewers using ad blockers

Wikia is not accessible if you've made further modifications. Remove the custom ad blocker rule(s) and the page will load as expected.